Embark's mission is to facilitate your discipleship. This means creating opportunities for you to grow deeper in your personal relationship with Jesus. We do this by asking people to do 3 things:
1. Spiritually grow
We facilitate spiritual growth primarily through grow groups. Grow groups consist of 3-12 people that meet regularly and do life together. These groups allow you to learn more about your faith by putting you into contact with content you would not come into contact on your own, as well as connect you with others who want the same thing. To see our current grow group offering, click the button below.
2. Make a Difference
You have God-given gifts and skills that He wants to use to make a difference, both for Him and in the lives of others. We want to help you discover, use them and connect with others doing the same. We facilitate this learning and "plugging in" in "Next Steps," a 2 week class that is immediately following our worship services. Click the button below for more information and how to sign up.
3. Reach Others
When you EXPERIENCE the life changing power of Jesus in your life, you can't help but want to share what you have experienced. We facilitate opportunities for you to learn how to share your faith AND serve our community. For more information and to learn how we do that, click the button below.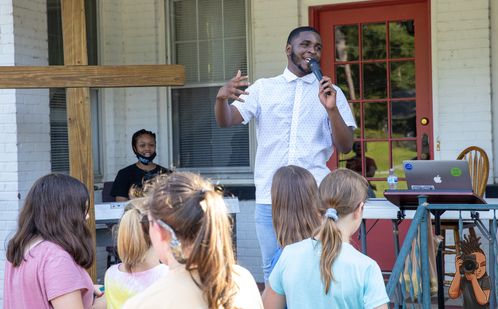 We have a middle and high school student ministry led by Krashawn Guess, our Student Ministry coordinator. They meet every Sunday from 5:30-7:30pm at our church building. Evenings include games, food, worship and a lesson. There are also several fellowship and community service projects that occur throughout the semester. Click the button below for more information and how your student can be involved.
Our children's ministry offers a clean, safe environment with age-appropriate Bible stories and activities for infants through 5th grade. Classrooms are divided by age groups into ages 0-2, 3-4, grades K5-2nd, and 3rd-5th. Each lesson is designed to teach children the basics of faith and connect kids with kids. For more information about what we do and checking your kids in to children's ministry, click the button below.
Ways to Financially Contribute
We do not "pass the plate" in a church service at Embark Church. There are several different ways to give however. Click the button below to find out how.
Jud Jordan is Embark's founding and lead pastor. He graduated from The Citadel with an undergraduate degree and from Columbia Theological Seminary with a Masters of Divinity degree. He has served as an associate and senior pastor of other churches before God called him to start Embark. He is an ordained Presbyterian minister with the Evangelical Presbyterian Church (EPC) denomination. To read more about his story, click the button below.
What does Embark's leadership structure look like?
We are a non-denominational church. Our leadership structure is patterned after healthy and growing churches. This is why we are free of destructive "church politics" that often hinder people growing in Jesus. We are also connected with a larger network of like-minded churches, mPact network. To learn more about our leadership structure, click the button below.
Our vision, values and beliefs guide who we are as a church. To read our vision, values and statement of beliefs, click the button below.
• If you have been visiting online, we would love to meet and connect with you. Experiencing the power of Jesus in your life always involves connecting with others that are journeying just like you. You next step is to plan your physical visit. You can do that by clicking the button below.
• If you are on one of your first physical visits with us and consider yourself new, we want to send you a $5 gift card as our way of saying thanks for being with us today. Text "ecnew" to 97000 and tell us where to send it.
• If you have been visiting awhile and are ready to take your next steps in exploring more about Embark, getting plugged in or connecting with others, our 2-week "Next Steps" class is your next step. Text "ecnext" to 97000 to get the details.