Spring group sign-ups begin Sunday, January 17, 2021.
Grow groups are designed for you to find community with others while growing deeper in your relationship with Jesus. Each group focuses on a specific topic such as parenting, freedom, finances, etc or a specific study in the Bible.
Spiritual Life
Sundays @ 5:30 PM
Beginning January 31
Located at Embark Church

Learn healthy spiritual practices that build a closer relationship with God. This course teaches how to experience a personal relationship with God through prayer, reading Scripture, and hearing God's voice. The result will be the ability to experience God's power in our lives. Childcare is available for Spiritual Life
Romans 12
Tuesdays @ 6:00 PM
Beginning February 2
101 Pandanus Road

True Spirituality is not about rules or ritual. It's all about relationship. It's about the freedom and grace that come from knowing Jesus personally. In the study, you will be challenged to acknowledge and overcome barriers that keep you from becoming a Christian who lives like Christ.
Alpha
Sundays @ 6:30 PM
Beginning January 31
3466 Tamara Lane

Alpha is a practical introduction to the Christian faith. Alpha is for everyone, especially those wanting to investigate Christianity, new Christians, and those wanting to brush up on the basics of Christianity. Books - $12
Walking in the Dust of Rabbi Jesus
Sundays @ 5:00 PM
Beginning January 31
Online: Zoom Group

In Walking in the Dust of Rabbi Jesus, the author challenges readers to follow their Rabbi more closely by reexamining His words in the light of their Jewish context. Doing so will provide a richer, deeper understanding of His ministry, compelling us to live differently, to become more Christ-like. We'll begin to understand why His first Jewish disciples abandoned everything to follow Him, to live out His commands.
Spiritually Ferocious
Wednesdays @ 6:00 PM
Beginning February 3
Located at Embark Church
* Childcare is available
Pre-requisites: Completed Spiritual Life & have a sustained and active devotional time with Jesus throughout the week

What we want to do - This course is about personally experiencing Jesus. We will do this by focusing inward and experiencing Jesus speaking into the things that drive us - what we believe about Him, ourselves and others.

Who is this for? - People who have a serious desire to learn how to order their lives around Jesus. They must be willing to commit the necessary time and energy in self-reflection, spending time with Him, adopting the learned spiritual disciplines and being involved in the lives of others who want the same.

Who is leading this? - Beverly Thomas and Jud Jordan

Who long is the group? - 1 year. There will be periodic breaks throughout the year.

How does this work? - The group will meet weekly for further instruction, discussion regarding your previous week's work done at home, accountability and fellowship.

How do I sign up? - Sign up and either Jud or Beverly will call you for further discussion and details.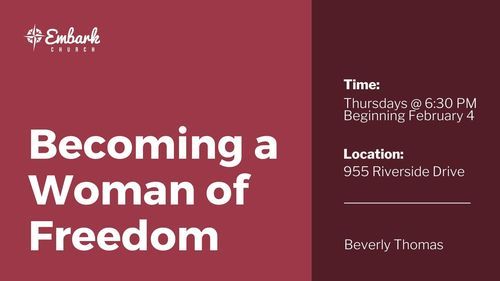 Becoming a Woman of Freedom
Thursdays @ 6:30 PM
Beginning February 4
955 Riverside Drive

No matter your age, circumstances or level of spiritual maturity, this study will help identify the things that can make you feel "stuck"… including past hurts, poor self-image, approval seeking, busyness, doubt, fear and unhealthy influences. Come join us as we find truths that help us become a woman who walks in Freedom!
Surrendering the Secret
Mondays @ 6:30 PM
Beginning February 1
3241 Pine Cove Road

Surrendering the secret - a Biblical guide to emotional healing after an abortion. This Bible study connects the abortion-wounded woman back to Jesus through Scripture. There is hope, healing, and restoration for the abortion-wounded woman. This class is designed to help women encounter Jesus Christ right where they want to hide the most.
Experiencing the Cross
Mondays @ 6:30 PM
Beginning February 1
169 Hundley Road

Learn to surrender to the deeper dimensions of the cross, so that nothing can block the Lord's presence and power in your life. Jesus Christ died not so that you would recognize a historical fact. Or memorize a particular doctrine. Or continue with life as is. No, Christ's death was God's decisive deed in your life, conquering sin once and for all. The cross beckons you every day, with power to transform every detail of your existence as you begin to see Calvary from God's perspective.